[ad_1]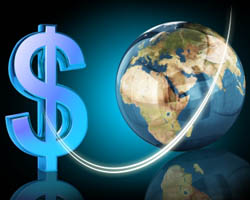 The dollar is turning in a mixed performance against its major rivals Friday afternoon, but remains little changed overall. Investors were pleased by the stronger than expected increased in February employment, but were concerned over the slowdown in the pace of wage growth.
Job growth in the U.S. saw a significant acceleration in the month of February, according to a report released by the Labor Department on Friday, although the report also showed a slowdown in the pace of wage growth.
The Labor Department said non-farm payroll employment surged up by 313,000 jobs in February after jumping by an upwardly revised 239,000 jobs in January. Economists had expected employment to climb by 200,000 jobs, matching the increase originally reported for the previous month.
Despite the substantial job growth, the unemployment rate held at 4.1 percent in February. The unemployment rate had been expected to dip to 4.0 percent.
The Labor Department also said average hourly employee earnings edged up by $0.04 or 0.1 percent to $26.75 in February after rising by $0.07 or 0.3 percent to $26.71 in January.
The annual rate of growth in average hourly employee earnings slowed to 2.6 percent in February from 2.8 percent in January.
Wholesale inventories in the U.S. increased by slightly more than expected in the month of January, a report from the Commerce Department revealed on Friday. The Commerce Department said wholesale inventories climbed by 0.8 percent in January after rising by an upwardly revised 0.7 percent in December.
Economists had expected inventories to rise by 0.7 percent compared to the 0.4 percent increase originally reported for the previous month.
The dollar slipped to a low of $1.2333 against the Euro Friday, but has since bounced back to around $1.23.
Germany's industrial production dropped unexpectedly in January, figures from Destatis revealed Friday. Industrial output fell 0.1 percent month-on-month in January, confounding expectations for an increase of 0.7 percent. Nonetheless, the pace of decline was slower than the revised 0.5 percent fall logged in December.
Germany's exports as well as imports declined in January from the previous month, Destatis reported Friday.
Exports decreased 0.5 percent on a monthly basis after staying flat in December. Shipments were expected to gain 0.3 percent.
Similarly, imports fell 0.5 percent in contrast to December's 1.1 percent increase. Economists had forecast a 0.2 percent drop in January.
Consequently, the trade surplus remained unchanged at a seasonally adjusted EUR 21.3 billion.
France's industrial production declined more than expected in January, figures from the statistical office Insee showed Friday. Industrial production fell 2 percent in January from December, when it climbed 0.2 percent. Production was expected to drop 0.3 percent.
The buck dropped to a low of $1.3888 against the pound sterling Friday, but has since rebounded to around $1.3845.
UK industrial production rebounded in January on oil and gas extraction, while construction output contracted notably, official data showed Friday. Industrial output grew 1.3 percent month-on-month in January, offsetting December's 1.3 percent decrease, the Office for National Statistics reported.
A similar faster growth was last seen in December 2016. Output was forecast to grow 1.5 percent in January.
The UK visible trade deficit increased as the pace of growth in imports exceeded exports growth in January, the Office for National Statistics showed Friday. The visible trade gap widened to GBP 12.32 billion in January from GBP 11.77 billion in the previous month. The shortfall was seen at GBP 11.9 billion.
The Bank of Japan kept its monetary stimulus unchanged as widely expected on Friday. Governor Haruhiko Kuroda and his board members decided by an 8-1 majority vote to hold its target of raising the amount of outstanding JGB holdings at an annual pace of about JPY 80 trillion.
The greenback reached a high of Y107.048 against the Japanese Yen Friday, but has since eased back to around Y106.800.
The average of household spending in Japan was up 2.0 percent on year in January, the ministry of Internal Affairs and Communications said on Friday, coming in at 289,703 yen. That beat forecasts for a fall 0.8 percent on year after easing 0.1 percent a month earlier.
Total labor cash earnings in Japan increased for the sixth straight month in January, in line with expectations, preliminary report from the Ministry of Health, Labor and Welfare showed Friday. Gross earnings climbed 0.7 percent year-over-year in January, slower than the 0.9 percent rise in December, which was revised up from 0.7 percent.
Other news


[ad_2]

Source link